A prestigious enclave revered for its privacy and scenic beauty, Montecito is an idyllic neighborhood home to some of the world's most beautiful homes and the Hollywood elite. It's also one of the wealthiest communities in the nation, so it's no surprise that Montecito residents are accustomed to living in the lap of luxury.

Just minutes away from downtown Santa Barbara, Montecito sits at the confluence of convenience and countryside escape. Flanked by the majestic Santa Ynez Mountains and the glittering Pacific Ocean, this captivating picturesque coastal community boasts quiet, tree-lined streets and a lack of the heavy commercialization that smothers other Southern California towns.

Montecito was home to the Chumash people for thousands of years before its transformation into an unspoiled, bucolic community treasured for its scenic backdrops and extravagant, ultra-luxe homes. In the 18th century, Spanish explorers arrived and created a religious destination, establishing the renowned Santa Barbara Mission and Presidio.

Over time, Montecito prospered — Italian immigrants migrated here in the 1860s, and Midwesterners arrived soon after, drawn to the area's natural hot springs. The early 20th century was a prosperous time for Montecito, which slowly grew into the exquisite region it is today, empowered by wealthy tourists purchasing and developing large plots of land that would later become the stately mansions, mountain-view condominiums, and villas that make up the Montecito real estate scene today.

As one of the nation's most coveted communities, home to a broad range of housing types and architectural styles, Montecito real estate has an abundance to offer prospective buyers and investors. The following guide highlights the most important factors of Montecito's luxury real estate market.
Montecito's increasing popularity
According to
Forbes
, Montecito has become increasingly popular with families, many of whom seek out this idyllic seaside neighborhood for its dramatic vistas, quiet streets, and picturesque setting characterized by stellar ocean and mountain views. With only approximately 10,000 residents, Montecito's natural tranquility is undeniably appealing.
Affluent home buyers appreciate the space, privacy, and oceanfront views offered by Montecito. In recent years, the area has become increasingly desirable for its exclusivity, Spanish-style homes, old-world architecture, and unparalleled beauty.
While Montecito has always been a hotspot for the ultra-wealthy, it is only in recent years that an increasing number of young families have started flocking to the area. Apart from the incomparable luxury real estate, another significant contributing factor is proximity to the prized Montecito Union School District.
Montecito architecture

Given the township's rich history and Spanish heritage, it should come as no surprise that most homes are constructed in the Spanish Colonial style. Other properties include charming Mediterranean and Cape Dutch homes. Some of the area's most spectacular homes reside in the hillocks overlooking the coastline and boast jaw-dropping views of the ocean.

These properties tend to feature several acres of land, guest houses, and other outbuildings. But the variety doesn't stop there. Montecito also features smaller cottages, contemporary houses, and even some historic ranch-style properties. Montecito luxury real estate is defined by an abundance of space with lots of land to create wide-open spaces characterized by verdant foliage and manicured landscaping.
Home to the stars
Montecito luxury real estate has long been a hotbed for movie stars, wealthy elite, and Hollywood bigwigs. Since the early 1900s, Montecito has enticed everyone from the Rockefellers to the DuPonts with its sumptuous verdant landscape dotted with sweeping pastoral estates, beachside manors, and Italian villages. That sense of grandeur is deeply embedded in Montecito's DNA, making it a haven for the stars and those with a taste for opulence.
Nowadays, notable stars like Drew Barrymore, George Lucas, Ellen DeGeneres, Portia de Rossi,
Oprah Winfrey
, Charlize Theron, Brad Pitt, Rob Lowe, and many more own or have previously owned homes in this sun-drenched haven.
Montecito luxury housing market trends
As of November 2021,
Realtor.com
reports that Montecito homes are currently listing for a median home price of $5.3 million, with the median sold home price at $5.7 million and price per square foot hovering around $1.6k. Montecito is a buyer's market and homes are remaining on the market for approximately 70 days, which is down from the same time last year.
Per
Forbes
, the average year-to-date sales price for single-family residences is $6.2 million, with 93 percent more properties selling in Montecito in 2021 versus 2020. Properties range from approximately $4 million for homes that need updating to $72.5 million for a sprawling 28-acre manse.
Even the pandemic has not stopped people from seeking out Montecito homes. The real estate market remains heartier than ever, if not stronger, with prices rising significantly since the pandemic started despite inventory trending low. From extravagant eight-figure houses tucked behind gates to slightly more low-key homes, Montecito's broad range of housing options is appealing to many.
Outside of the actual Montecito marketplace, people expect a certain degree of luxurious amenities and features in Montecito homes. As you view houses in this serene sanctuary, you'll find that most include panoramic views of the mountains, ocean, island, or harbor. Amenities include pools, tennis courts, guest houses, and beyond. Some of the homes tucked along the elevated hillside even boast 360-degree views of the surroundings, extending out to the Santa Barbara coastline.
Between the craftsmanship, colorful accents, and old world architecture, Montecito estates are works of art characterized by stunning sculptures, arches, ivy-covered trellises, and expansive compounds perched atop multiple acres of land.
And that's before we touch on the Spanish courtyards, gardens, pathways, water features, and more. These incredible manors feature exquisite adornments that maximize functionality and enjoyment. Home theaters, bocce courts, outdoor gourmet kitchens, custom firepits, exotic gardens, waterfalls, libraries, and spectacular living rooms with floor-to-ceiling windows are all hallmarks of Montecito luxury living. Life in Montecito often feels like you're living in a resort.
What do people love most about Montecito?
Because Montecito real estate has become an increasingly hot commodity, interest in what makes this vibrant enclave such an alluring place to live has risen. The pandemic has created a substantive change in the way people work, and more members of the workforce than ever before are working from home.
Since thousands of workers no longer have to prioritize commute time, they can focus instead on improving their quality of life by living somewhere with beautiful year-round weather, excellent schools, and no traffic. Even though Montecito is close to downtown Santa Barbara, the two areas often feel worlds apart thanks to Montecito's peaceful lifestyle and advertisement-free streets.
One of the best advantages of living here is receiving all the benefits of the city — modern amenities and conveniences are just minutes away — minus the bustle and stress that come with living in an area rife with urban congestion. Even when the stressors caused by the pandemic ease, now that people have had a taste of what luxury living in Montecito offers, it's hard to imagine them returning to the old status quo.
Montecito residents wake up in paradise every day of the year with astounding scenic backdrops worth reveling in, endless sunshine, and photogenic architecture. However, perhaps one of the most appealing factors of life in Montecito is the neighborhood's prime location.
Outdoorsy types appreciate the easy access to the mountains and ocean thanks to Santa Ynez's many bridle trails that meander through the landscape. But anyone who likes to shop, dine and visit local entertainment hotspots can drive just five minutes to Santa Barbara's State Street, and Los Angeles is less than two hours away.
Despite its lavish accommodations, Montecito retains residents because it feels like a peaceful small town with an old-world charm and sophisticated sense of grandeur that's hard to find elsewhere. Even though it is a low-key place to live with minimal commercialization, there are conveniences and luxury amenities to be found, such as the shopping in the Upper Village and the bespoke
San Ysidro Ranch
, a grand hotel in the Santa Ynez Foothills.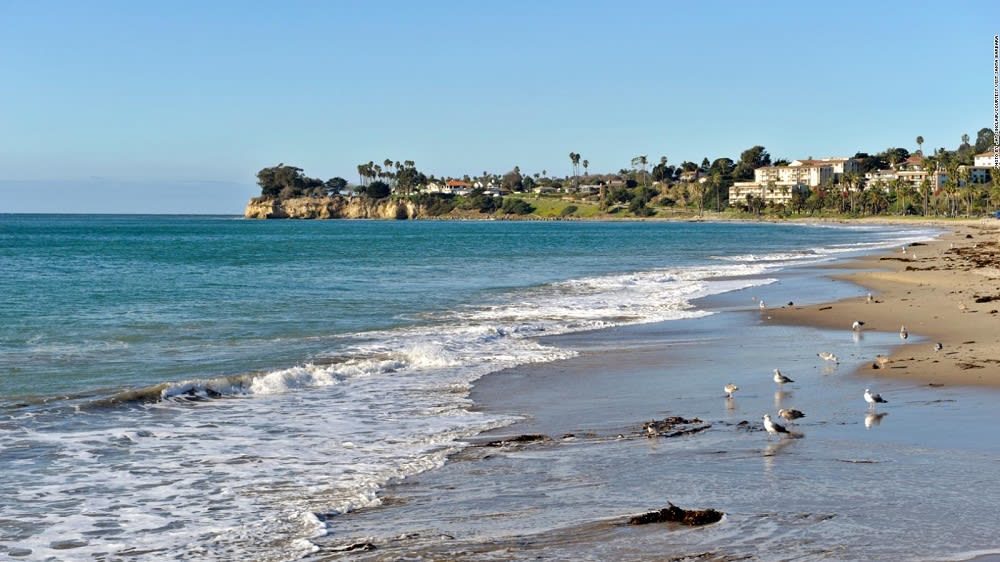 Butterfly Beach, Credit: CNN
Montecito also features upscale restaurants and an elegant private social club, the
Coral Casino Beach and Cabana Club
, located on Butterfly Beach's pristine shoreline. Butterfly Beach alone is a significant attractor to this chic village and is a favorite among the locals. The beautiful shoreline is ideal for surfing, sunbathing, swimming, and watching the sunset.
Are you interested in Montecito luxury real estate?

Stephen MacFarlane is a renowned Santa Barbara real estate agent with years of experience. He has his finger on the pulse of the local market and would be happy to advise you on the best Montecito homes for sale. Contact Stephen today to start your search.